Today, more and more companies are using plasma and LCD screens for Boardrooms, meeting rooms, training rooms, receptions, foyers and public areas.
This is due to the screen sizes increasing and the quality of the resolution improving. Plasma screens range from 42", 50" with a range of 61"/63"/65" depending on manufactures and now Panasonic have introduced a 103" plasma screen.
Commercial LCD screens are now larger in size, ranging from 32", 40", 46" and now a 57" screen.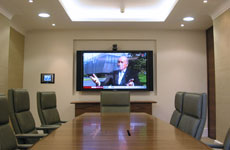 With this wide range of screen sizes on the market, choosing the right one can be a daunting task; with a little help from AVC, sorting through details like resolutions, contrast ratios and input options is much easier and you will find the experience refreshingly simple.